Claudia Münch® JustSweet®
JustSweet can replace sugar completely or partially in many products. Even in products where you did not believe there was sugar.
JustSweet, a natural and prebiotic sweetener, was originally developed for The Amazon Secret® .
1 gram of JustSweet is equivalent to 25 to 50 grams of sugar, depending on the product in which it is used. JustSweet has a synergistic effect on ingredients it mixes and enhances the natural sweetness of the products. Therefore, there is no constant sweat compared to sugar, but at least 25 times as sweet as sugar.
JustSweet contains steviol glycosides which are a sweetener extracted from the South American plant Stevia.
This stevia has little in common with eg. the Chinese stevia that has been used in many markets.
The World Health Organization (WHO) conducted an in-depth study on safety of steviol glycosides and determined that it is safe to consume up to 4 mg per kilogram of body weight per day. It has not been established that large quantities are hazardous to health.
JustSweet usually has no side flavors. In most products it tastes sugar.
More than you think
More products than you think. More than you think about, contain large or small amounts of sugar. It is thought that water is sugary, but when it comes to flavored water, it can contain up to 80 grams per liter. So almost as much as the noise you would avoid when buying the water.
Vegan Certified
JustSweet is a vegan certified product. Visit V-label for more information. Vegan certification means among other things, that there are no ingredients from animals, and during the production, there are no contamination of ingredients with animal origin.
WHO does not like sugar
WHO is the World Health Organization that recommends reducing calorie intake, especially when calories are derived from carbohydrates in sugar.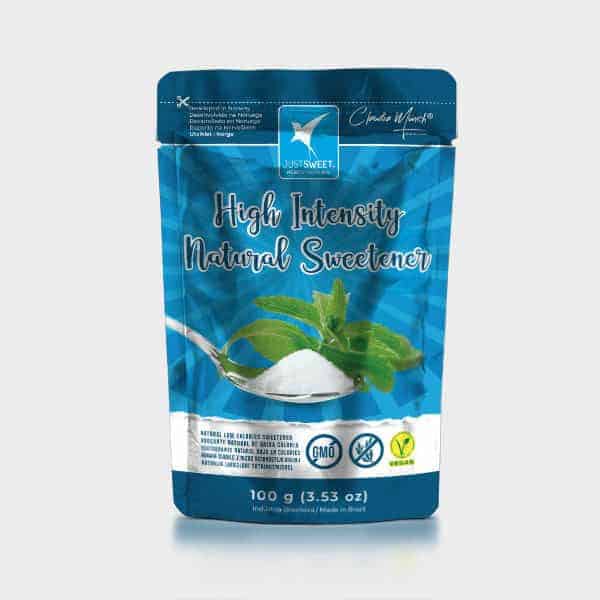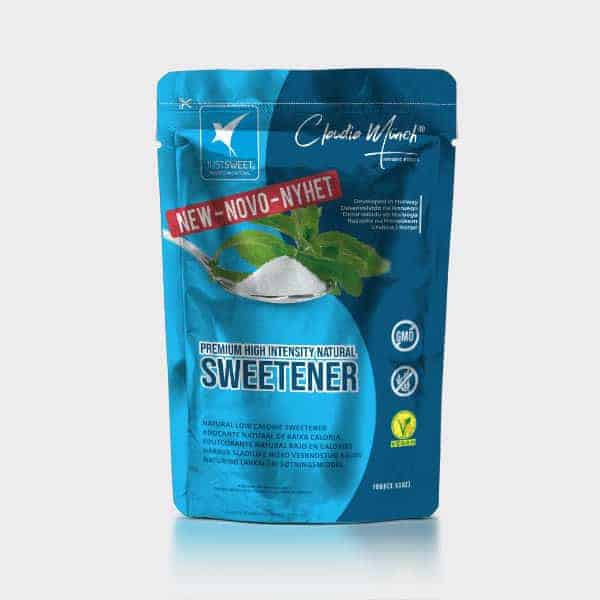 Sugar can be replaced by JustSweet™
Not always completely, but at least in part, any reduction is a good reduction when it comes to calorie intake. The exception is when replacing sugar with synthetic sweeteners. It does not always have to be positive and give a better result.